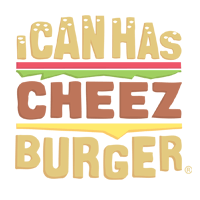 I Can Has Cheezburger?
We don't need our pets to tell us they love us, they show it in so many ways...you just have to notice them.
Here are a few ways our beloved pets show us how much they love us:
1. Just how happy they are to see us. Always. I don't know about you, but every time I enter the room where my cat is currently residing -- he gets so excited! When if it's only been 5 minutes since our last encounter. Our pets are so ecstatic just to be near us! Think about that!
2. Those eyes. Who needs words when you have those deep, super-duper loving eyes staring into your soul? That says more than enough.
3. The little gentle touches, or quirks, they do. For example, your cat may run up to you and stop right before reaching you and suddenly turn to the left or right, but doing so right in front of you. They want you to make that extra step and love them back. And we 100% do, every time.
Our pets adore us and we adore them. We figure it's a good moment to go give them a big hug and kiss.